News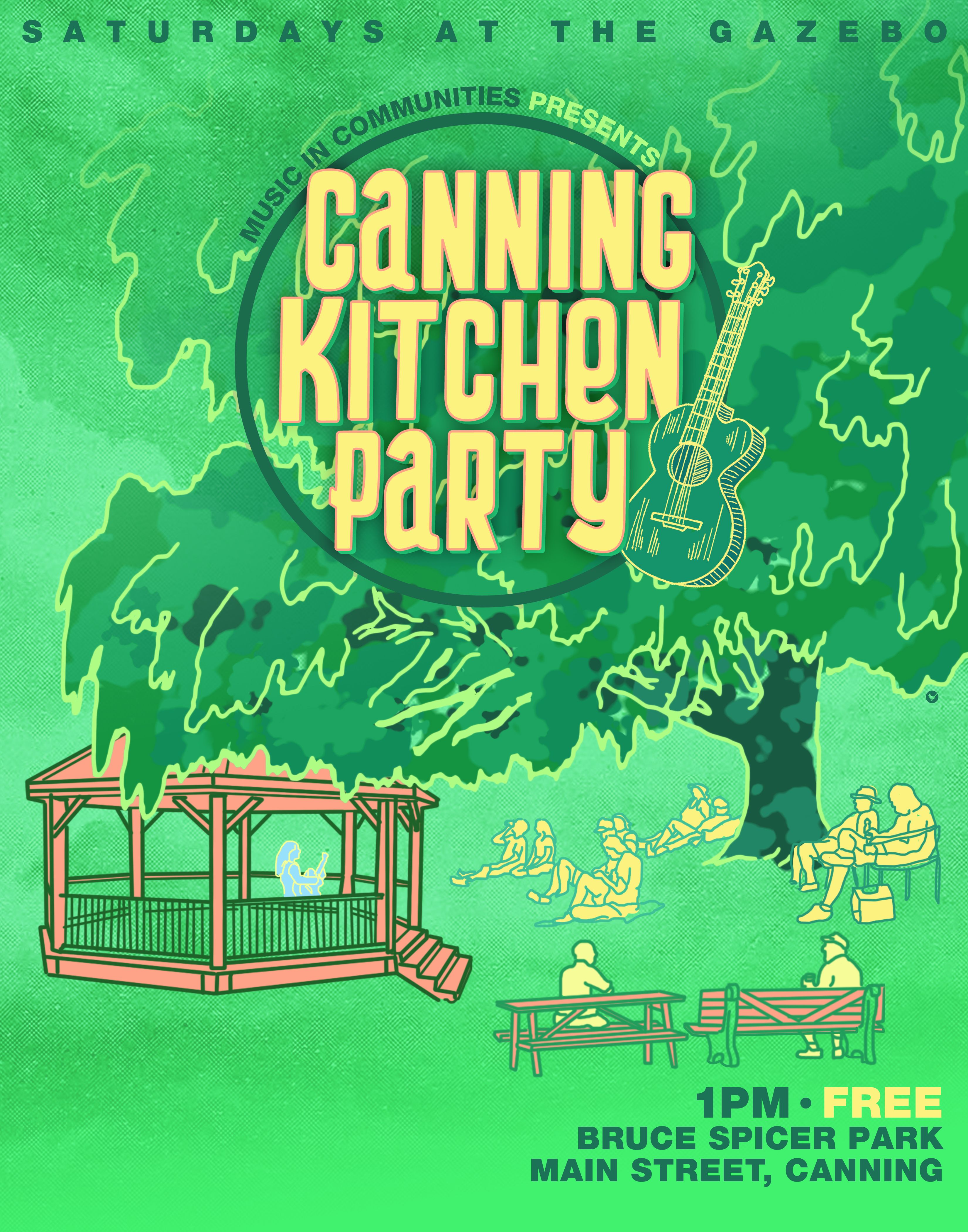 We are really excited to work with the Canning, Kentville and Wolfville Recreation Departments to offer music to a wide range of people in our area. Please see our Upcoming Events Calendar for details. Along with music for teens and younger kids, a very special choir, school of rock camp and a queer & trans & allies jam session, there will be Jam Dances in Kentville, and a community drum circle in Wolfville too, not to mention Ukulele with the amazing Sarah McInnis in Wolfville, Kentville and Windsor. Contact us for more info on any of these programs and events.
We have a really fun line-up of great regional talent for the fourth annual Canning Kitchen Party, with opening sets featuring some of our community ukulele groups and jam sessions. After the shows, we'll have a jam session in the gazebo, and all are welcome to jump up and share some tunes. Family friendly fun in the sweetest little village around!
The lineup (subject to change and possible surprise guests):
July 2 - High Strung String Band | The Gilberts Duo | The Mud Creek Boys - cancelled due to weather 
July 9 Anne Marie Williot + High Strung String Band 
July 16 - Corey Isenor | Adrianna Ciccone & Colin Cotter
July 23 - Sarah McInnis | Kentville Ukes |Black Rock Buoys
July 30 - Chimney Swifts |The Canning Uke Kids
Aug 6 - Chris Robison
Aug 13 - Sandi Marie Porter hosts Open Mic Invitational
Aug 20 Heather Kelday | Katie Hutten
Aug 27 - The Lounders | Steel Cut Oats
Sept 3 - Freya Milliken & Tyler McDonald & NKEC Jammers
We are thrilled to have support from the Canada Summer Jobs program to hire two students again this summer. Last year we were very lucky to hire Reuben and Maisie Gilbert. They did a fantastic job for us, and we will keep bringing them back to lead programs whenever we can. We are super proud and excited for the Gilberts and their recent ECMA win! They are doing great things and we are thrilled to see them fly.
 This year we welcome Freya Milliken and Tyler MacDonald to the team. They are skilled, hard-working Acadia School of Music students, and they've already launched a bunch of programs and projects for us at MIC.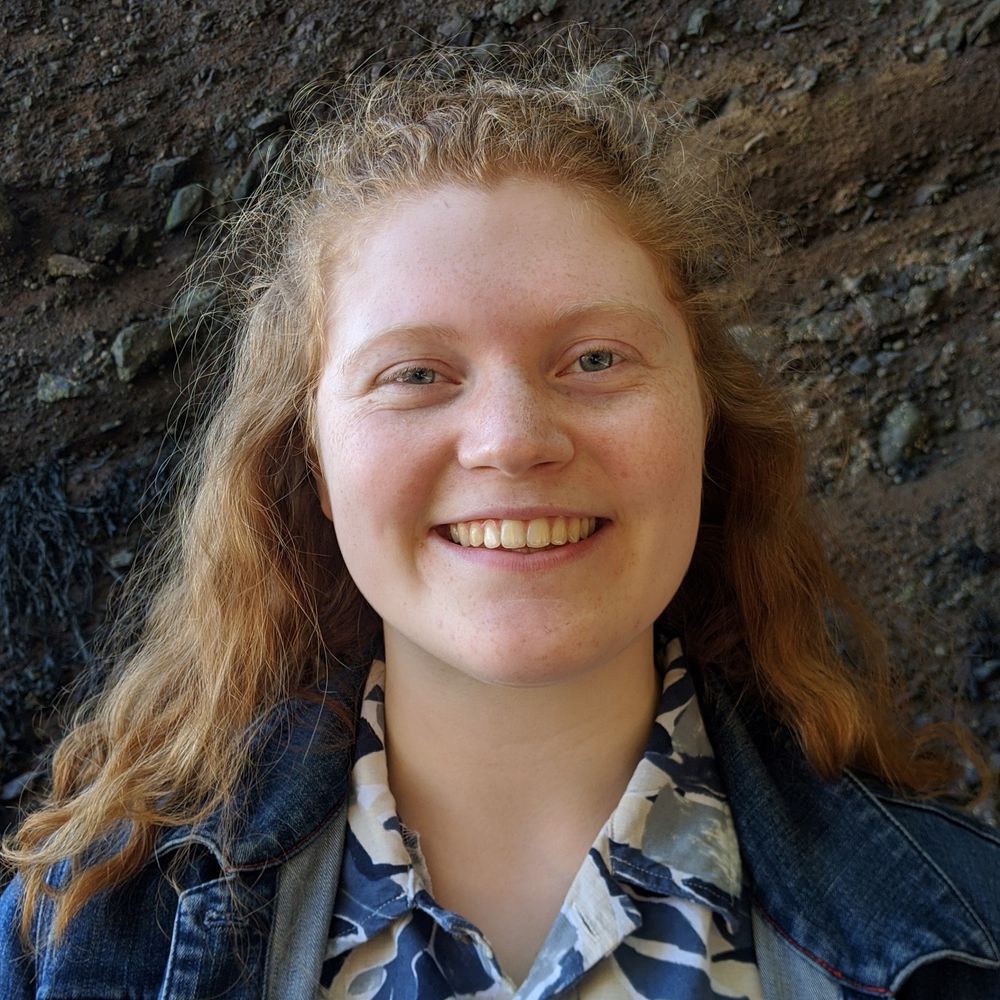 MIC Summer Student Introductions #2
Hey everyone, my name is Freya Milliken and I'm a singer-songwriter and guitarist from Dorchester, New Brunswick. Music has been a huge passion of mine ever since I was a kid, and I grew up listening to artists such as Boston, The Beatles, Led Zeppelin, and Sarah McLachlan. Nowadays I listen to a lot of Fleetwood Mac, Maggie Rogers, and Orla Gartland, but am often shifting around my playlists. I've always been the kind of person who likes a little bit of everything, which comes in handy when you're working in the music biz! This fall, I will be going into my fourth year in the Bachelor of Music program at Acadia University and am excited to apply the skills I will be developing with Music In Communities this summer to the rest of my degree, my career as a musician, and to help my peers, or anyone else I meet along the way, with their own goals and aspirations. Music empowers, supports, and celebrates the diverse experiences that exist within everyone, and I'm looking forward to creating spaces to do that and more this summer!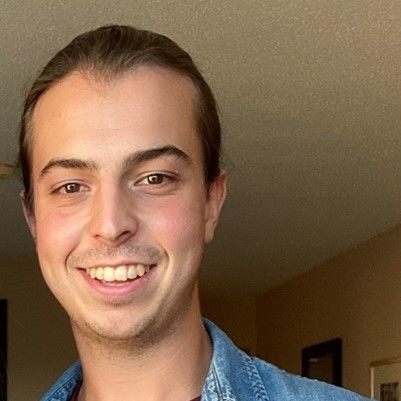 MIC Summer Student Introductions #1
My name is Tyler McDonald, I'm 23 years old and from Cape Breton, Nova Scotia. I've been a lover of all things music since a very young age - I'm primarily a drummer/percussionist but I enjoy working on many instruments to improve as both a performer and a teacher. I've recently finished a Bachelor of Music and am now half way through the Bachelor of Education program, both at Acadia University. Besides attending school and teaching, I play with a few different bands and also work as a freelance drummmer/percussionist. I'm super excited to be able to connect and share my passion for music with people involved with Music in Communities. I've loved working in all sorts of different musical settings from concert band, jazz band, percussion ensembles, cover bands spanning many genres, guitar and ukelele groups. I hope to continue creating safe spaces for all to enjoy and explore music this summer through my work with Music In Communities!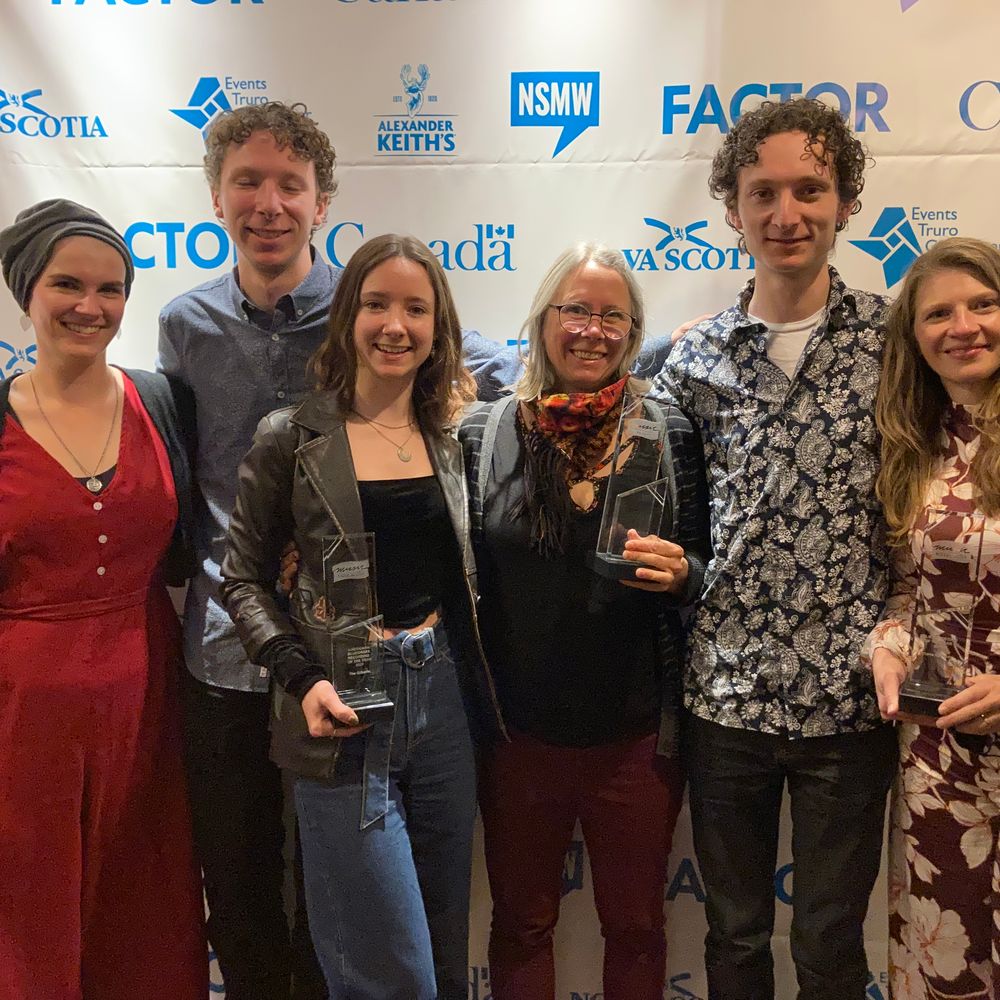 NS Music Awards
Well, wow! Music In Communities is thrilled to announce we won Community Presenter of the Year at the Nova Scotia Music Awards! This acknowledgement from our peers is heart-warming and huge. Enormous thanks to everyone involved over the past two years of our fledgling operation. Almost since the beginning, we have had to try to keep the music alive in our community through Covid. It has been a crazy challenge and also incredibly rewarding to bring people together safely when we needed it the most.
We're grateful to collaborate with other fantastic community organizations. Thanks to the Deep Roots Music Cooperative, Acadia Performing Arts Series, Wolfville, Kentville and Canning Recreation Departments, the Alexander Society for Inclusive Arts, and Ross Creek Centre for the Arts.
In our efforts to bring music to the margins, we've hosted improvising session for folks with learning disabilities; after-school ukulele clubs; outdoor singalongs and pop-up choirs; trans- and queer-friendly sessions; a Black History Month series and more.
Some of the real "THIS IS WHY WE DO THIS" moments have included:
Maisie Gilbert on drum kit with her School of Rock girl-group at the Canning Legion;
Sarah McInnis conducting a masked, socially distanced pop-up choir singing In the Bleak Midwinter in Clock Park in December;
T. Thomason inspiring a trans kid to sing after hormone treatments had altered his voice;
Measha Brueggergosman's version of Sinner Man at the Church Brewery;
Reuben Gilbert jamming with the local old-timers in the gazebo at the Canning Kitchen Party;
Ken Shorley and Sahara Jane improvising together at the Jam Dances;
And so many other little moments that made me cry, and make it really easy to do this work, because the results are tangible. i keep seeing ways we can do more.
The Music In Communities team is growing all the time so if I miss anyone, my apologies. Here are some of the people who have run our programs, run sound, volunteered at the door, hosted workshops, made posters, filmed us, and helped me keep my head from exploding. Thank you: Sarah McInnis, Peter Williams, Amelia Robitaille, Michael Langiewitz, Laura Billington, Reuben Gilbert, Maisie Gilbert, Bethan Delorme, Matt Delorme, Kimberly Smith, Kathleen Purdy, Phil Dennis, Zakary Miller, Mark Riley, Fisher Akao, Terra Spencer, Rebecca Fairless, Sam Wilson, Jah'Mila, Sarah Levy, Brandon MacGregor, Wendy LaPierre, Donna Lynn Holmes, Ken Shorley, Sahara Jane, Mairi Chaimbeul, Ananda Kavanagh, T. Thomason, Eli Dunlap, Brian Borcherdt, Katy Hopkins, the Dearlies, and all the amazing musicians who have played for us.
xo Kim Barlow, Director
(Photo l-r: Sarah McInnis, Reuben Gilbert, Maisie Gilbert, Kim Barlow, Frieden Gilbert, Terra Spencer)